Now, sing (2012)

Technically, a remake of this 1995 drawing (age 6).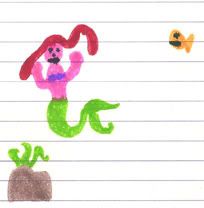 Sort of. I don't know, I'd just forgotten how into this movie I used to be, and if I'm going to be redoing these child drawings (oh right, I want to do that), I might as well start with this.
Inspired by the beautiful simplicity of Aimee Fleck/brofisting, who you should check out if you haven't already. I've been very partil to flat colours lately.